It feels like I have fallen off the end of the blogging world. I have finally come around to getting some of my photos posted. Three weeks ago I was in Texas and need to post those images, but today I want to post a few from this past week. Last week I was in St. Louis, Missouri for a couple days and then Kansas City for a couple. In St. Louis I was able to make it out to three 'nature' areas; Emmenegger Park, the World Bird Sanctuary and Lone Elk Park.
"Emmy," as Emmenegger is commonly known in St. Louis, is a small park that has some nice paved trails, a beautiful forest and beautiful wildlife. I mainly wanted to get out and enjoy the 30 degree temps. Note the sarcasm there? Yeah, I wasn't too psyched to be walking in those temperatures, but I wanted to get out and shoot some photos. I was able to capture this photo of a white-throated sparrow (someone please correct me if I am wrong) checking me out.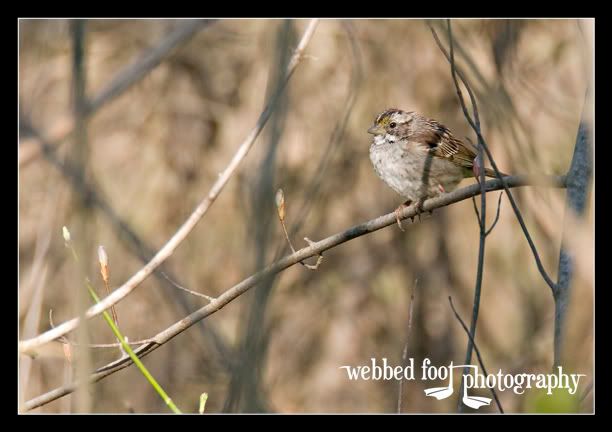 After my brisk walk I drove over to my true destination of the
World Bird Sanctuary
. Being a true bird lover, I knew this was going to be fun. They have a wonderful facility and the brids are fantastically beautiful. They were also very vocal. As I walked near the great horned owl's cage, he flew to the ground and started hooting and eyeballing me. It was intense. The bald eagle would schreech at each other, the vultures and me as I got too close. I had never heard that before and it was amazing to hear and to watch. The parrots were not liking me at all. They gave me some serious attitude when I even got near their cage. I would recommend stopping by this facility to any bird lover. They rescue, take care of and rehabilitate birds and give them a permanent home there. I volunteer at an animal shelter, but if I lived in St. Louis you can believe I'd be here volunteering, too.
I have three photos to share. The first is one of the peregrine falcons that was getting some sun. He was very ambitious and really wanted to fly. The second is a beautiful red-tailed hawk who happened to be sitting right next to the falcon. Last, but not least, is the amazing symbol of the U.S.A. - the great bald eagle. This guy was super animated. He was plaing in a pool of water and then getting some sun. Make sure to check that one out. It'll be up on the wall very soon.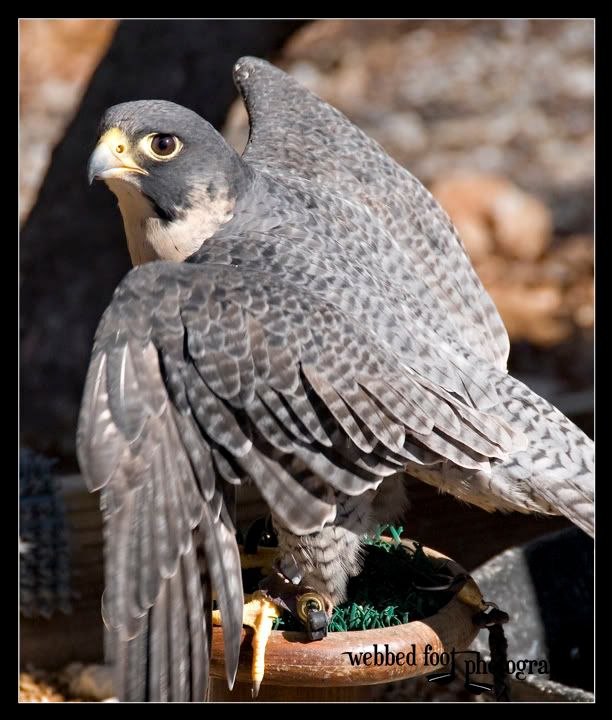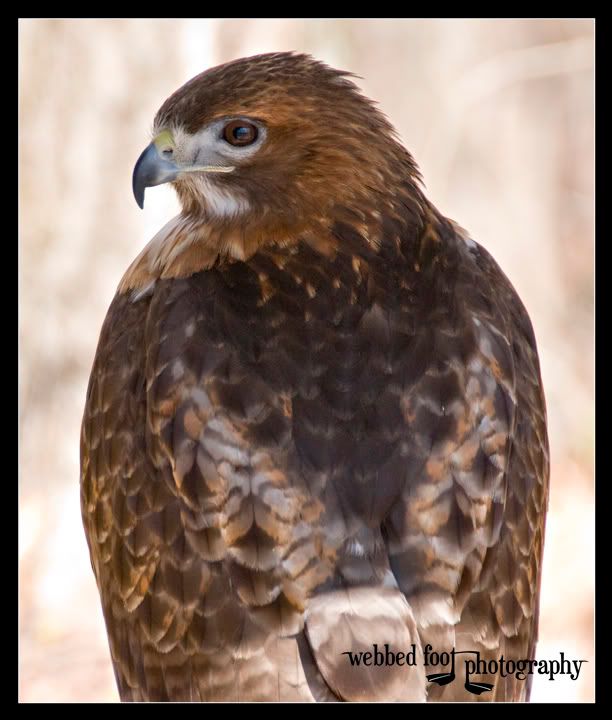 I felt bad for all of the birds there. Why? Well, I felt bad because for whatever reason they were there, they could not return to the wild and hunt and be as birds are. Yes, they are given the best of care, and I am thankful to the staff who tends to the birds, but I also feel a sense of emptiness for them as they have to remain in a cage for the rest of their lives. May God bless the staff of the WBS, the volunteers and the many birds who reside there.
_____________________________________________________
Still to come... Photos from Lone Elk Park, Texas and then Kansas City, MO.