This past weekend was a fantastic mosaic of country from all over. The
Stagecoach Country Music Festival
is held at the Empire Polo Grounds in Indio, CA. It's the same place where Coachella is held every year. It is in the middle of the dessert. There will be a few photos from the three days we were there, but for the most past I am just going to comment on how much fun I had and what bands/artists were good, bad or ugly.
Kymberli and I went last year and in a word it was - HOT! One of the days last year hit around 108 degrees and we were hurting. We spent about $100 on just water alone because they weren't allowing people to bring in their own. Thank goodness they changed that rule for this year.
Last year we camped out and it sucked. Most of the campers were 20-25 and they were up drinking and partying until 4:30am. Ok, I guess I am getting old because I wanted to sleep. When 6am came around it got super hot in our tent. Fat Guy + Enclosed Material = Bad News! Anyway, this year we opted for a hotel room. It cost us 10x as much, but it was so worth it. A/C, clean room, a bed and peace and quiet.
We decided the first day to walk because the hotel desk said it was less than a mile. In cowboy boots and 90 degrees it feels like 10 miles. We made it there and went right for the beer tent. We needed a cool refreshing beverage for the long walk to the Palamino Stage, which was on the opposite side of the grounds. We walked over to see Shooter Jennings and then got to see one of my favorite country bands, the
Nitty Gritty Dirt Band
. My dad introduced me to these guys 20 years ago. I never realized what an impact he and this band would have on me. I knew all but one of the songs they played. Kymberli got some shots and I am posting one here. These guys were awesome. They got the crowd into it, played plenty of great songs and thanked everyone countless times.
"Mr. Bojangles"
is a song that they covered many years ago and it is awesome. Brought back some great memories of my dad, brother and I when we used to work the farm in Geneva, NY.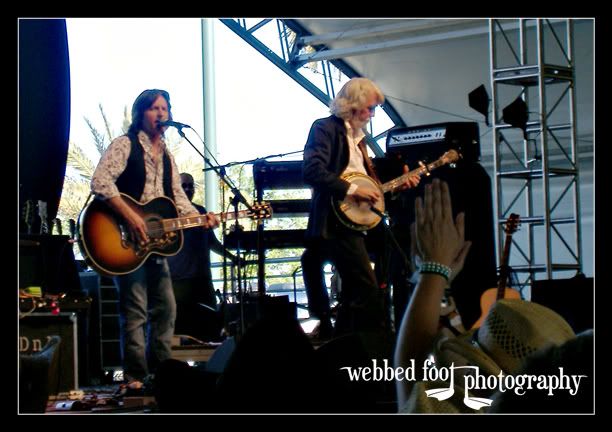 There were some great bands throughout the day. We listened to some of John Fogarty and then decided to head back. The Eagles were the headliner, but come on people - they are not country. So many people showed up right before the Eagles performed. Now my dad would kick me for not staying and listening, as the Eagles are one of his (if not THE) favorite bands of all time. I just did not want to hear them at a country music festival. As we left, there was a line of cars about a mile and a half long waiting to get into the parking area. It was insane. People kept asking us if they had gone on yet. Crazy. We walked back to the hotel and it was the worst decision we made all weekend. We walked back and got some serious blisters from our boots. Unfortunately, Kymberli got the worst of it. I lucked out with one blister and sore feet. She had quite a few and they looked painful. We vowed to grab a taxi for the rest of the weekend.
Day 2 was great. The short of it was that we got to party and the weather was awesome. High eighties and the crowd was huge. I really, REALLY wanted to see the
Kentucky Headhunters
and they were one of THE best live shows I have seen. Again, my dad introduced them to me years ago, but they seemed to be better than before! They came out and riled everyone up. They played hit after hit and played the crowd. The best part was when Fred Young, the drummer, went into a drum solo. Not only was it the most powerful solo I have ever seen live, but he played the last 2 or 3 minutes with his bare hands!! BARE! He crushed the cymbals over and over with his knuckles. Totally Awesome! The rest of the show was great. I truly enjoyed being a part of their performance.
We stayed there for
Cross Canadian Ragweed
and they drew a big crowd. They sounded great, but I have to say that I haven't listened to much of their music. It had a cool sound, but I will need to listen more to see if I like it.
The main reason we parked our behinds at the Palamino Stage was to see
Dwight Yoakam
. I think Dwight's music is incredible and the crowd he drew was enormous. Hundreds of people showed up. I would venture a guess at over a thousand. We had a choice to see him or Dierks Bentley and we voted for Dwight because we have seen Dierks a couple times and had never seen Dwight live. I am so glad we stayed. Dwight was by far one of the best performances at the festival. He got all of the women swooning with his swaying and hip shaking. He played so many great songs, gave props to Rick Nelson and Buck Owen and still didn't play all of his hits. Here's a couple shots from the show.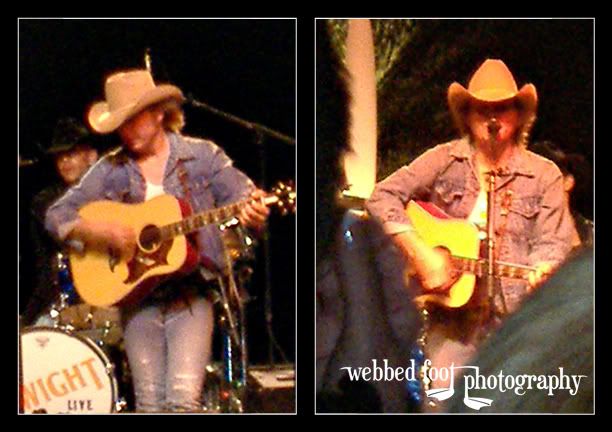 After Dwight was over we ambled over to the Mane Stage to see the last bit of
The Judds
and then
Rascal Flatts
. Naomi and Wynona were great together and they got pretty emotional. Heck, they hadn't performed together since 2000 or something. Great show. Rascal Flatts was great, too. They opened up strong and kept hollering out to the people in the back. the only part that really disappointed me was when Jay did his James Brown bit and guys, it's old. Get some new material. For those of use who have seen you the past 2 years - we want something fresh! Hopefully next year. I had a hard time keeping my eyes open, so we headed out about halfway through their set. We had made sure to wear comfy footwear, but still didn't want to walk back. We walked to where the cabs were, but wouldn't you know it the 4 that were there wouldn't take us because they were waiting for others. We called for a cab and they didn't show, so we walked back!! It was easier than the day before, but not fun. We were so tired, but we made it.
Sunday was great. We knew we could sleep in and head over about 4 hours later than Saturday because we only wanted to be at the Mane Stage to see the big acts. We got up and hit the breakfast buffet at the hotel and let me tell you, it was dee-lish-ous! We ate and went back to the room for a nap! It was a great morning. When we did get around, we got a cab to the event. The bad news was that the cops wouldn't let the cabs all the way through, so we still had to walk. Payback for eating so much food! Even though it was a hike, the weather was great yet again. high eighties - again! We were loving it. We went in and went right for the beer tent. The main reason was I forgot to put sunscreen on my face. We did want to find a nice area to sit and enjoy some tasty beverages, too. We lucked out when after only a half hour, 2 people got up from a picnic table and left. We grabbed the seats for the remainder of the evening.
Can I just say that
Trace Adkins
had the best opener? He came out singing, "I got my game on..." and the crowd went nuts. He put on a show and sang incredibly. I know some of the speakers weren't working well (they kept fluttering in and out), but his voice permeated the entire grounds. People at CMT said they heard him all the way over on the opposite side. Here is the crowd when looking out from the beer tent during Trace's performance.
The rest of the night was great. We met a wonderful woman and her husband who came out just for Sunday. We spent most of the night getting to know them, chatting and enjoying the music. They were a pleasure to talk to and were so much fun! I hope we get to see them next year! We all enjoyed Carrie Underwood's performance, too. She belted out some songs that had everyone singing. The woman has come a long way since American Idol. We saw some crazies and interesting people the entire weekend. I could go on and on, but I have blabbed long enough. Next year we'll try to get our cameras in to take some nicer photos. For all that went, we hope you had a great time! We certainly did!!
To add insult to injury, when Kymberli looked at our map of the walking distance from our hotel to the venue it was 1.5 miles. One way! We had it all wrong. Next year it's all about the flip flops and cab rides.